Well, this is it. My Pirates of the Caribbean collection.
Over $1,000 of my money the past 3 years.
(Ok, my boyfriend chipped in a little, too.. but I didn't make him!!)
I hope you all enjoy it.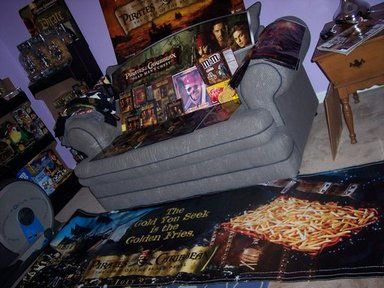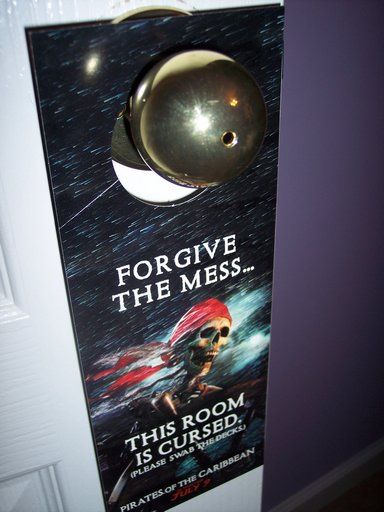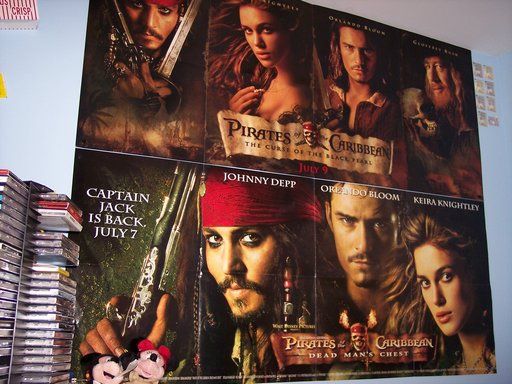 These are in my actual room. I have duplicates without holes.



Lifesize Jack and Will standees, still in the box. I'm a freak.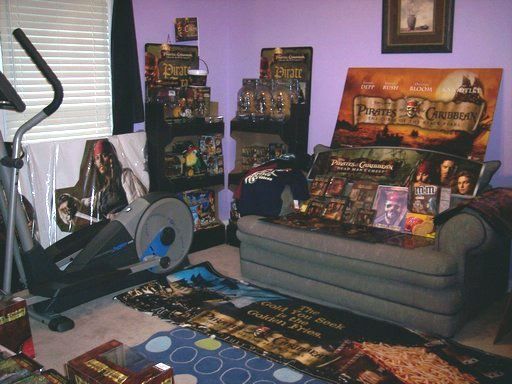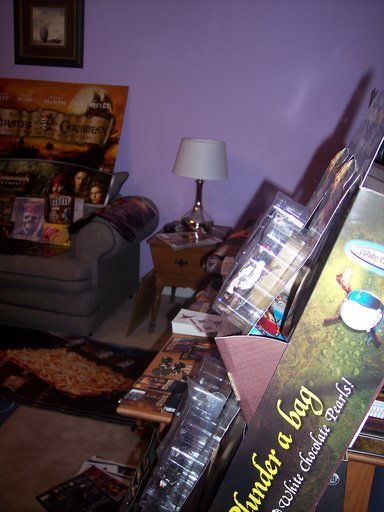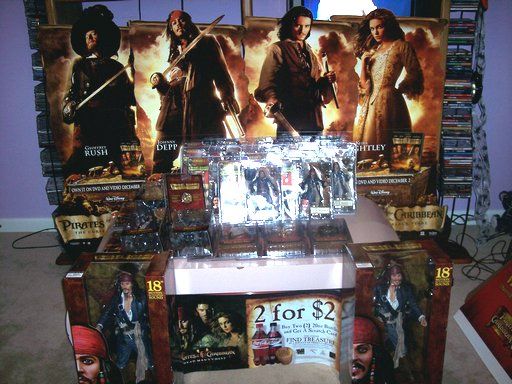 DVD release standees + NECA + Master Replicas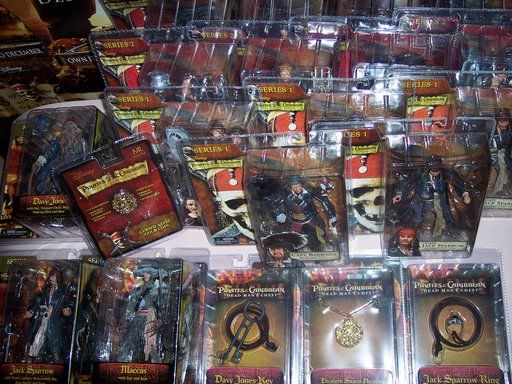 The only NECA figures I need are DMC Series 1 Will Turner and the Cursed Barbossa vs Cursed Sparrow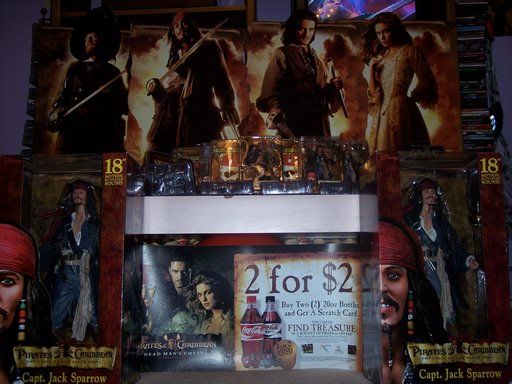 Yes, I have both the smiling and serious Jack various. Pointless? Of course.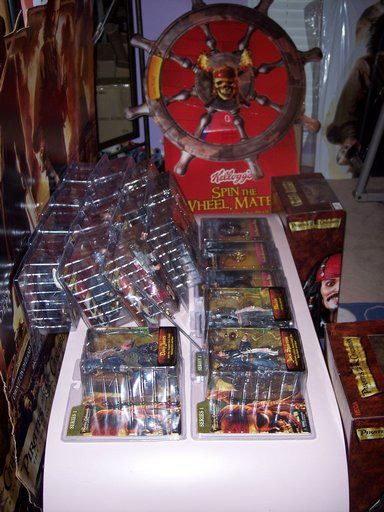 That standee came from Kroger. (If anyone knows where I can get the one with Jack on it for LESS THAN FREAKING $150, please let me know.)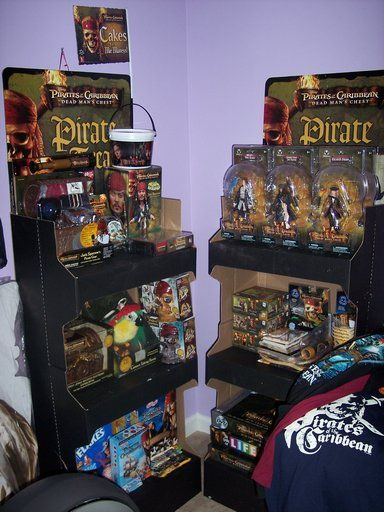 I got these two standees from my friendly, neighborhood Publix.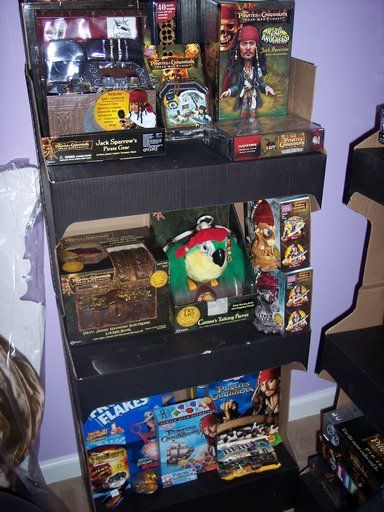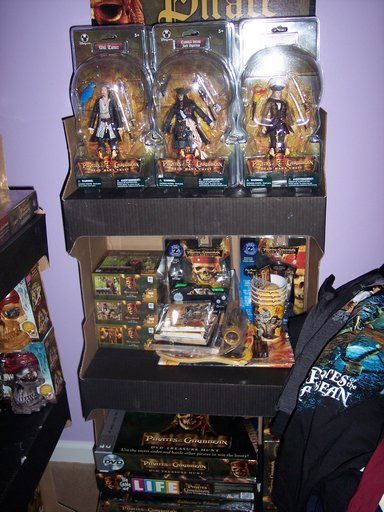 The action figures up top are from the Disney Store. They're my favorites.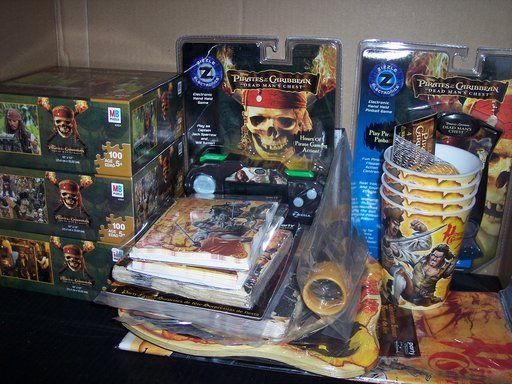 Just a close-up of the smaller items.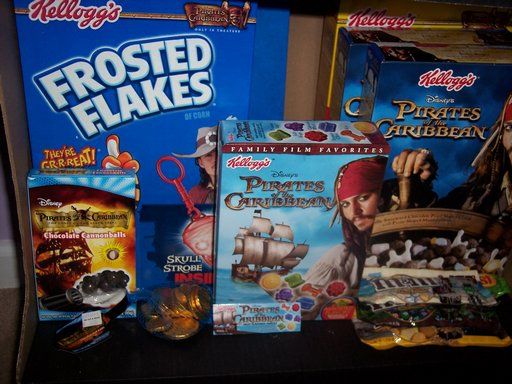 Another close-up of the smaller items.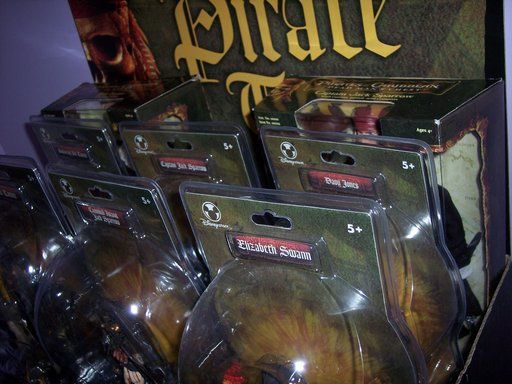 The Will and Jack dolls are back there somewhere.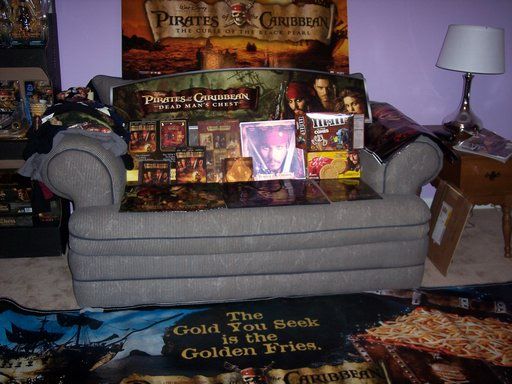 That banner is from McDonald's, obviously, and from the first movie. I also have all the posters that were at McDonald's, a window cling, and the Black Pearl drive thru sign.

I plan on stealing everything from McDonald's this time around. .. Or just asking nicely and stealing the day they're supposed to take it all down.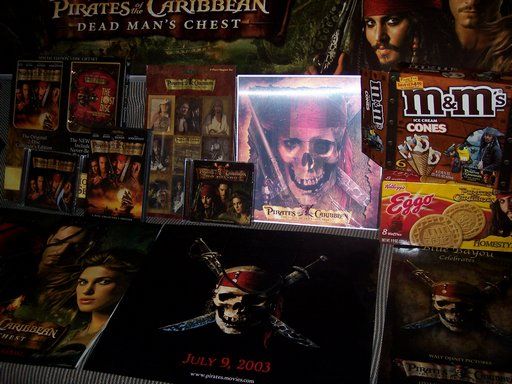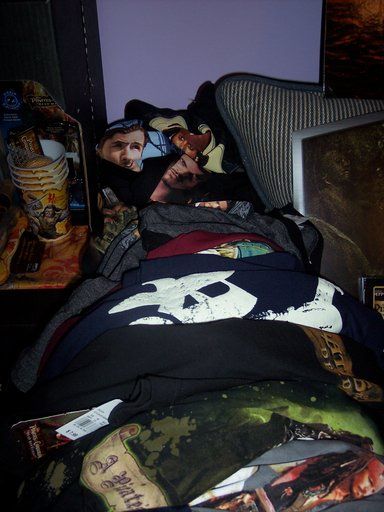 Shirts I'll never wear!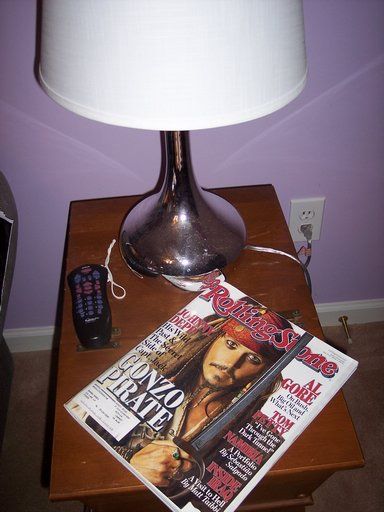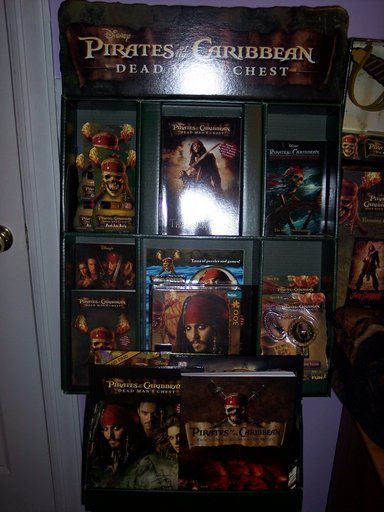 This standee came from a Barnes and Noble.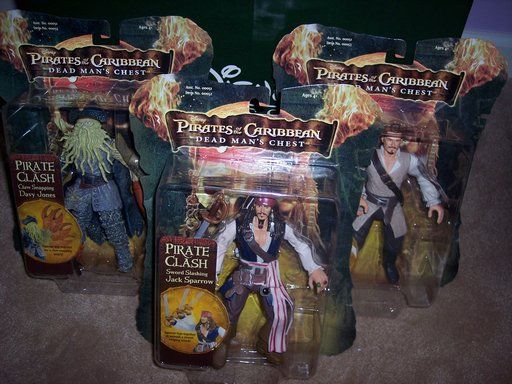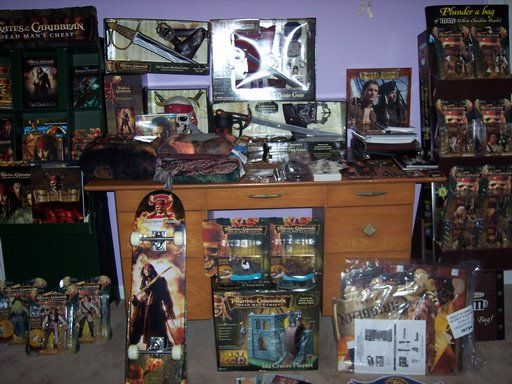 You don't know how much it killed me to see a POTC skateboard, knowing I had to buy it "just because".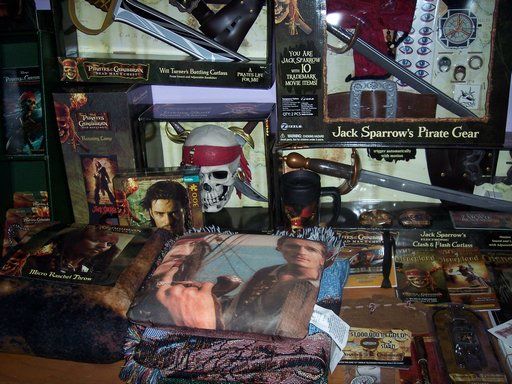 I have pins from both premieres, and some park maps. And I have three (gold, silver, and silverish-gold) "authenic coins from the movie". I'm guessing they were in the cave? I've got like 100 sheets of those tattoos.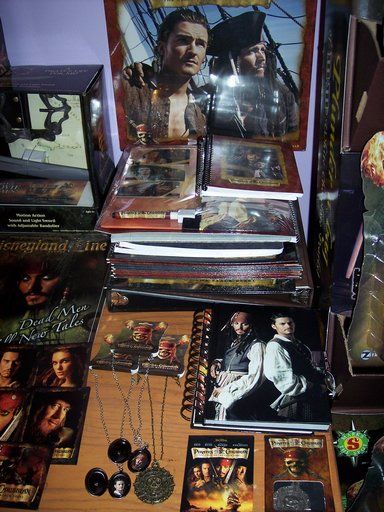 I have 5 of these M&M standees. You can't see Jack, because he's covered by the figures, but he's on there. I'll be putting 4 of them on eBay soon (along with some other things I have duplicates of), if anyone's interested. I've just got to figure out how to ship them.



I actually won all the 3.25" Zizzle figures in a contest.

And I got the Will prototype : ) How awesome is that?!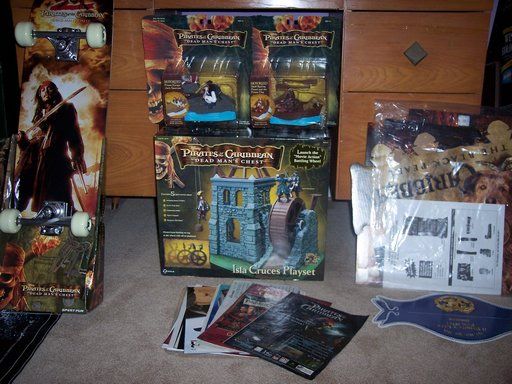 That standee-in-a-bag on the right is from the DVD release. It's the most awesome thing in the world. I've never put it together, but I saw it in stores before I ever got one.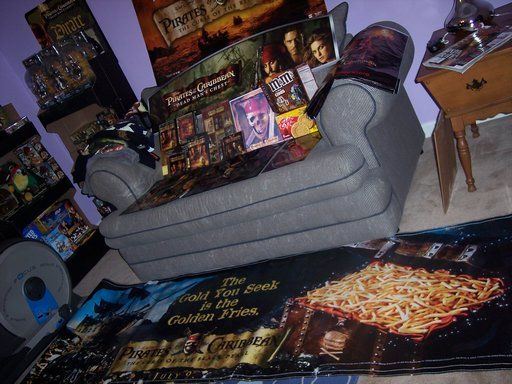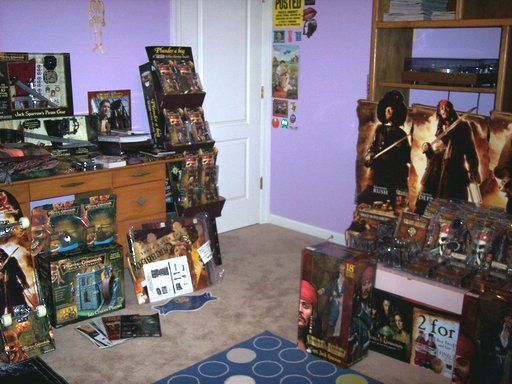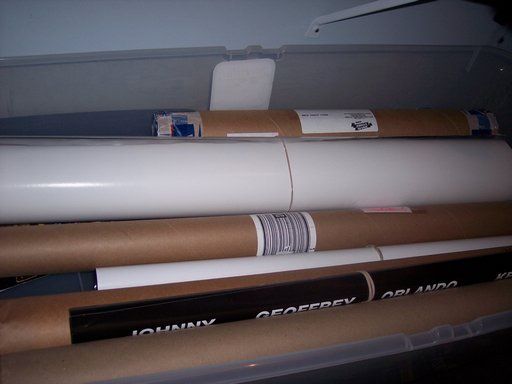 These are all my posters. They're doubled up, too.. so there's more than it seems.

Oh! And I also have 3 8x5 feet banners (Jack, Will, Davy Jones) coming in. And you know those big light-up things they have above the movie/music section in Target that are backlite? I have one of those from the first movie. I'm also getting the new Blue Bayou menu from Disneyland. The old on is on the right side of my couch, if you look.

Time to put it all back in boxes!

Yay!